The cliffhanger, which is often used in series in order not to lose the viewer at the end, offers a special method for building up tension. Weekly TV series manage to keep their audience for days or weeks by building up their curiosity with a cliffhanger. Cliffhanger literally means that the protagonist is attached to a cliff and everyone inevitably asks himself how he is supposed to survive this.
The cliffhanger strategy can be applied in two different ways. If you use parallel storylines, you can pause the first storyline through a cliffhanger before moving on to the second storyline.
Even if the second storyline starts less exciting, the listener can't jump off because he wants to experience the resolution. It can become a nerve-wracking strategy for your listeners if you drive your energy level up as a storyteller.
Cliffhanger tension build-up
"I was naked bathing in the forest lake and when I came back my clothes were gone. What are you doing? Run home naked?" In the time when I was in the forest there was a phone call in the city. "Yes, with pleasure. We'll do it all for you".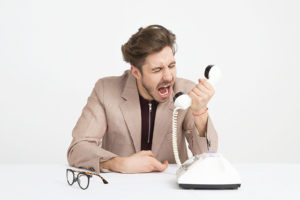 In this example you can see how easy it is to manage the Cliffhanger as a parallel storyline by jumping from the forest into the city.
Because your listener wants to know whether you had to walk home naked or could find another solution, he remains with you even during the somewhat boring phone call that is currently being made in the city. It is important that you actually resolve later what the cliffhanger has withheld from your listener.
Since a cliffhanger is seen as a promise to resolve the exciting situation later, you can also use it in marketing to build trust. If you create several websites as a series, you can move from one part of the story to the other by getting your visitor from one website to another and experiencing the positive experience of fulfilling your promise.
Online Marketing Cliffhangers
In online marketing, the technique is often used as an email series in which the solution to a particular problem is presented in bits and pieces.
Cliffhangers interrupt the storyline at the most exciting point:
Cliffhangers enable the transition to less exciting topic blocks.
Series can hold their audience without cliffhanger only with difficulty
Cliffhangers make a promise to satisfy curiosity later on
Promises kept lead to confidence building
Tasks: How to create your cliffhanger
Which parts of your story are suitable for cliffhanging?
How could you create your story as a series?
What effect would you have if you didn't dissolve the cliffhanger?